Hikvision DS-2XS6A25G0-I EXIR Fixed Bullet Solar Power 4G Network Camera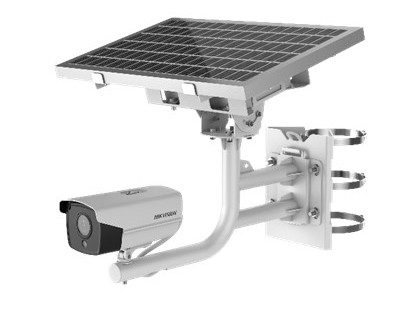 Hikvision's EXIR 4G 2MP solar bullet has a battery pack that allows the unit to operate for 7 days if the 20Ah lithium battery is fully charged by the 40W photovoltaic panel.
Features include 120dB of WDR, battery display, battery high-low temperature protection, charge-discharge protection, low-battery sleep protection and remote wakeup LTE-TDD/LTE-FDD/WCDMA/GSM 4G wireless network transmission, support for Micro SIM cards and water and dust resistance to IP67, which is immersion.
The camera has a ½.8-inch progressive scan CMOS sensor with minimum scene illumination of 0.004 in colour at F1.4 with AGC on, or 0.002 Lux @ (F1.4, AGC ON), 0 Lux with IR on in monochrome. The bullet camera is available with the option of a fixed 2.8, 4, or 8mm fixed lens, giving 41 to 107-degree angles of view.
You drive the unit via the Hik-Connect app, which I found very easy to use.
Are you ready to protect what matters?